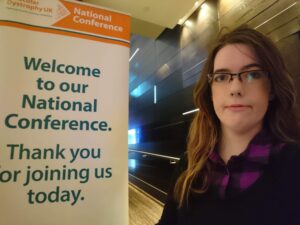 Fi Anderson is fundraising for a wheelchair. To get one that meets her needs, she has to raise £14,125. She's applied for countless grants, but will still need to fundraise a lot of the cost herself. If you can help by donating, please do so here: https://www.justgiving.com/crowdfunding/fisnewchair
If you can't, consider sharing this.
Note: I hate the tragedy model that requires people to parade their misery in order to raise money to get support and equipment. The state should be giving people who need wheelchairs the weekchairs they need – but it isn't, and Fi is suffering as a result. Please consider donating even if you too hate that Fi is forced to do this.
As many of you know, before I got the right wheelchair, I was incredibly limited. I had a wheelchair from wheelchair services that did not meet my needs, and that I couldn't spend any time in. I was lucky enough to be able to get a wheelchair that instead supported my body enough to let me go out, and live in the world. That wheelchair made it possible for me to perform at Transpose, to apply for a Master's – to start the Master's, to travel again, to apply for, and get, Barbican OpenLab, and to do my internship this summer at Muscular Dystrophy UK.
It was probably through that internship that I first encountered Fi's blog. She is a passionate advocate for Changing Places toilets, a cause that I too care enormously about. We are both dependent on hoists to safely move out of our wheelchairs, and Fi has done a huge amount of work campaigning for toilets adequately equipped to meet needs like ours. She does a lot of work on public transport access – and is now unable to safely access it herself.
I was lucky enough recently to get the chair I now need funded through wheelchair services. My needs have changed, I needed a different controller, more supportive seating and armrests, and a different backrest. Wheelchair services paid for a chair that does everything I need. Sure, it doesn't include a riser so I get get things off supermarket shelves, or go at 8pmh rather than 4mph, but those things are preferences, not needs. I am able to live my life in this chair.
Fi wasn't that lucky. Wheelchair services have been of no support for her in getting the chair she needs, and instead she's been abandoned, in a chair that breaks down whenever she leaves the house. She has a rare form of muscular dystrophy – and is the mother of two girls.
Her blog was incredible for me to read. Here was someone in a similar situation to me (different condition but similar needs), and she was an active campaigner, a mother, and an independent women, living her life. It was one of the things that helped me when I was nervous about starting my Master's. Reading her blog (she's one of the #MDBloggersCrew who all have muscular dystrophy and coordinate their blogs on living their lives) showed me that it was possible to do the things I wanted to do – because other people like Fi had achieved a truly self-directed life.
She doesn't have a chair she can use to live in the world any more. She can't safely go out alone, or do the school run, or any of the million other things an independent woman who is also mum of two young girls might want to do. Instead, she's reliant on a chair that might break for good every time she leaves the house. Going out at all has become a military operation.
My chair is designed to support me in repositioning, to help prevent me from getting more pressure sores. Fi doesn't have that – those functions on her existing chair have broken, meaning she risks this every time she goes into the world. Wheelchair services are refusing to fund her a chair with these features for her to use, and without them she has no way of safely repositioning, meaning pressure sores – which are incredibly painful and take months to years to heal – are a constant risk for her, whenever she spends time in her chair.
I met her offline at the national MDUK conference this year, where we were speaking on a panel on independent living, and she was kind enough to answer my endless questions on being a disabled mother and how she found that – questions I ask because I too want to parent, and she's the only person facing similar impairment to me who I know to have achieved it. She won the Campaigner of the Year award at that conference for her ceaseless work on behalf of herself and others – people like me – in her Changing Places toilet campaigning.
I could attend all the panels I was in the building for, before heading home, but Fi, whose chair didn't let her reposition, was prevented from doing this. She had to miss panels she would rather attend, because she was limited by how long she could safely be in her wheelchair. Instead, she was trapped lying down in bed in pain from the inappropriate chair, until she was safe to get up again.
She hasn't asked me to write this, she wouldn't ever do that. I'm writing this anyway. Friends, friends who know what having the right chair did to my life, if any of you have any spare money, could you look at chucking some money into the fundraiser? She's applied for lots of grants, is doing all the fundraising she can, and even with the grants will have to raise most of the cost of the chair.