……….Excuse me, but what's the mount attached to your wheelchair called?

Another wheelchair user, stopping me in public
I didn't anticipate ever spending my time writing product reviews, but I'm very frequently asked about three things I use on a day-to-day basis. These are the Meru Flexzi 2 phone mount (wheelchair users often stop me while out and about to ask about it), the Source Convertube (which the Intensive Care nurses apparently loved), and the Stojo Brooklyn reusable coffee mug (which gets me a lot of questions due to its portable folding nature).
I would love to have found a good coffee cup holder for my chair, but alas I'm still looking for something strong, resilient, and the right size. If you have anything you can recommend me, comment here, or email hale.jamie.r@gmail.com.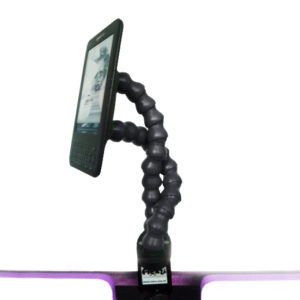 The Flexzi 2 made by Meru is a flexible gadget stand, suitable for mounting phones, tablets, switches, kindles, remote controls, and anything else you might want. I use it with the heavy duty clamp, and the extension kit, you can also buy a quick release camera mount that also sticks to it. The way the flexzi works, is that there is a clamp which you attach to your wheelchair (or bed, table etc), and then two strands of moveable plastic. Each strand is made up of lots of smaller segments, and the two strands can be twisted round each other to increase their stability. At the end, they come together in a large round piece of rough velcro. You then attach soft velcro to whatever you wish to stick to the mount, and it holds it steady.
I've used this to support anything from a 2kg laptop down, and whilst I don't trust it absolutely, I find it very useful. I keep my phone and tablet in otterbox cases for safety, then superglue the velcro to them, and attach that to the mount. I've never had the mount's velcro fail on me. I haven't tried their camera mount, but it's designed to stick onto the surface of the flexzi mount, and screw using a universal adapter onto the camera, to stabilise it.
This mount makes it possible for me to message or dictate from my phone as I go, and doesn't rely on me holding it, which I can't do without dropping it. I find that the two strands are easy enough to bend for me to position it where I want, but firm enough that they don't move during the day-to-day use.
The Flexzi 2 allows me to be certain when out and about that my phone will never fall or be dropped. This gives me a degree of independence I wouldn't otherwise have, as if I drop my phone, I have no hope of picking it back up again. I can't emphasise enough just how much I love this product.
The Source Convertube is a drinking system that connects to existing plastic bottles. If you've encountered hydration bladders (e.g. camelbak or similar) as used by cyclists, walkers etc, where a bag of fluid is hung in a backpack with an extended straw to drink from it, then you've seen the concept. The Convertube has a bite-and-suck valve with a cap and a long tube, but then instead of using a water bladder, it simply connects to most sizes and shapes of water bottle. I tend to buy litre bottles of flavoured sparkling water from the supermarket, fill them with squash, and then use this straw to enable me to drink from them. I wash and reuse the bottles a number of times, then eventually replace them.
I prefer it to using hydration bladders because when the bottle I'm drinking from is empty, we can just unscrew the lid and straw, then screw it into a new bottle, whereas with hydration bladders they were difficult to sort and refill without covering the person doing them in squash. It will also screw onto most bottles of drink as I buy them from the supermarket – so if I want to get a bottle of fruit juice. I find hydration bladders difficult and unwieldy, this is a far more manageable solution for me.
You can then use a safety pin and some fabric or velcro to clip the tube to your shirt, meaning the bite valve is within mouth reach at all times. This means from my wheelchair I then have access to a drink without having to ask a PA, but also without having to be able to comfortably and safely lift the bottle of drink, which is amazing. I was without one of these tubes for a few months recently, and I found that I drank so much less of what I needed as a result. Since buying a new one I'm far better hydrated, without triggering nearly as much of my nausea.
I've tried lots of cheaper drinking tubes, but have found that with most of them they required more ability to suck than I could manage, whereas this is a lot easier for me. An honorable mention here goes to this hydration bladder cleaning kit, which has a long enough brush to clean the whole way down the inside of the straw, helping me keep the tube clean.
Stojo Brooklyn coffee cup
I wasn't sure whether to bother buying the Stojo Brooklyn (one of the Stojo Biggie range – their larger size cup). My nausea means I struggle with drinks – and that's constantly being balanced against my desire to have more caffeine. However, I decided I couldn't justify using disposable cups when I did have a coffee, so I was on the lookout for a cup I could easily carry on my chair. I thought I wanted something that would work with a carabiner, but then I saw someone using their Stojo mug and was sold. These coffee cups fold down into themselves, meaning they can be sealed into a small shape and packed into a bag, essential for me, because I don't know when I'll next be able to wash it.
The other crucial thing about these is the straw. Made of silicon, it's wide enough for the inside to be easily cleanable, and while it doesn't protrude far above the lid of the cup, it can also be used as a channel for a longer straw if necessary.
If you put it down too hard on a surface, especially if the middle cuff isn't on properly, you run the risk of sending coffee everywhere, so this cup demands caution, but it's a better balance of usability and portability than I've seen in any other cup yet.
How did you find these products? What would you recommend to wheelchair users?
If you have any questions about these, or any other product, (or have recommendations of your own) just comment, email me at hale.jamie.r@gmail.com, or tweet @jamierhale

To see the other reviews in this series, go to Adaptive Product Reviews

If you make or sell a product you want me to review, drop me an email on hale.jamie.r@gmail.com