I work as a multi-disciplinary creative, with a range of current projects in my creative portfolio. You can find examples of my work on my publications and poems pages or by buying Shield, read about my performances or learn more about my work on my reviews and features and interviews pages.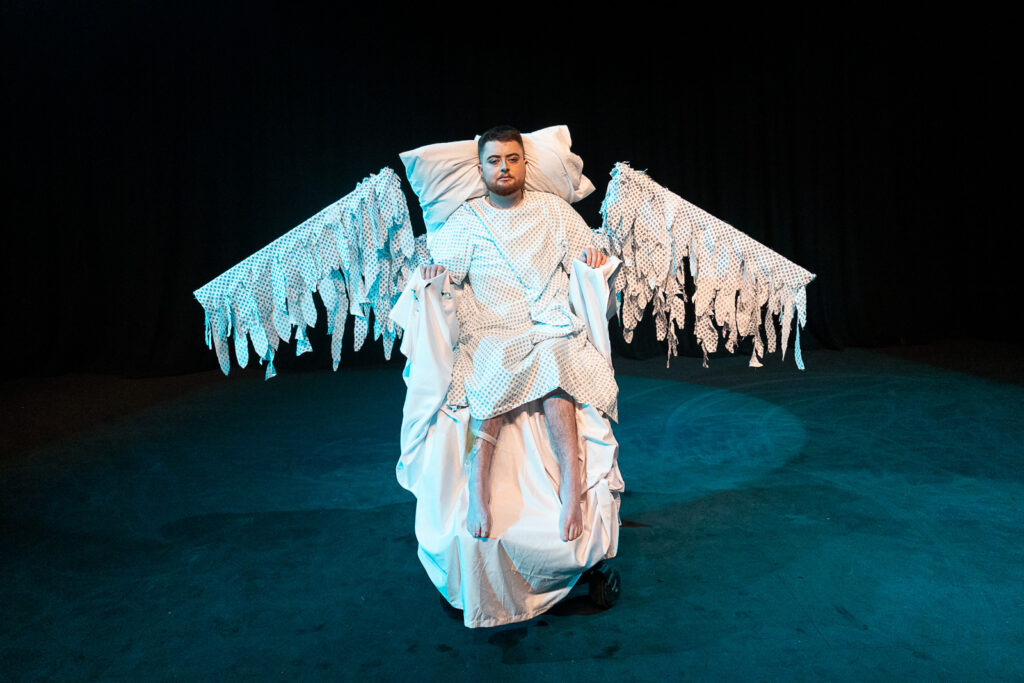 ---
I do:
---
Screenwriting
I am currently writing an original series for Channel 4, with Gaumont, about a trans man coming to terms with his past. I also have three other projects in development – an adaption of my solo show, NOT DYING, for television, a romcom about a queer, disabled couple (with Hayleigh Barclay), and a series about genetic inheritance, with an anti-tragic approach to progressive disability.
---
Poetry
One of the three Jerwood Poetry Fellows in 2021-2022 and a previous London Writers' Awards winner, my first poetry pamphlet, Shield was published in January 2021. With thanks to the Jerwood Fellowship, I am currently working on my first full collection.
'These are arresting, heart-stopping poems lit with a rare intensity. Hale's poems don't pull any punches, they explore what it is to live in a body and on the way touch the centre of the fragility deep inside all of us. Humane poems that will make you ache.'

– Mona Arshi
---
NOT DYING
NOT DYING – solo poetry, narrative storytelling and comedy show
WATCH TRAILER
Winning the Evening Standard Future Theatre Fund Award for Directing & Theatremaking, and shortlisted for Best Spoken Word Show in the Saboteur Awards 2021, NOT DYING is my solo poetry and spoken-word show, combining poetry, comedy, narrative storytelling and drama. It has currently been redeveloped, directed by Athena Stevens, and is available for performance from Autumn 2022 onwards.
"an acerbically funny and deeply thought-provoking monologue […] Hale is a compelling and witty performer who makes you laugh and reflect in equal measure" – Agnes Carrington-Windo, Plays to See
---
CRIPtic Arts
Founded by myself in 2019, CRIPtic Arts is an Arts Council England-funded support, development, production, and showcasing organisation for work by and for deaf and disabled people in the arts. We offer year-round workshops, mentoring, training, and development, and a biannual showcase.
---
Previously…
Other work in my creative portfolio has included:
Curating the CRIPtic 2021 programme, and directing the showcase at the Barbican Centre 2021
Curating and leading the CRIPtic x Spread the Word writing salons for d/Deaf and disabled writers
When We Got Sick monologue commission for Graeae's Crips Without Constraints
Experimental – an online writing retreat for d/Deaf and disabled writers, 2020
Art, Activism and Access, a series of articles for the Wellcome Trust, 2020
CRIPtic Pit Party 2019 at the Barbican Centre
Writers Room – KAOS by Charlie Covell for Netflix, 2019
Barbican OpenLab residency 2018
Invisible Fest performance, 2018, Rich Mix
Transpose performances in 2017 & 2018 at the Barbican Centre
London Writers' Awards for Poetry, 2018 (including performance at the South Bank Centre)sa
Shape Arts showcase, Tate Modern, 2018
Saboteur Awards showcase, 2018
More can be found here